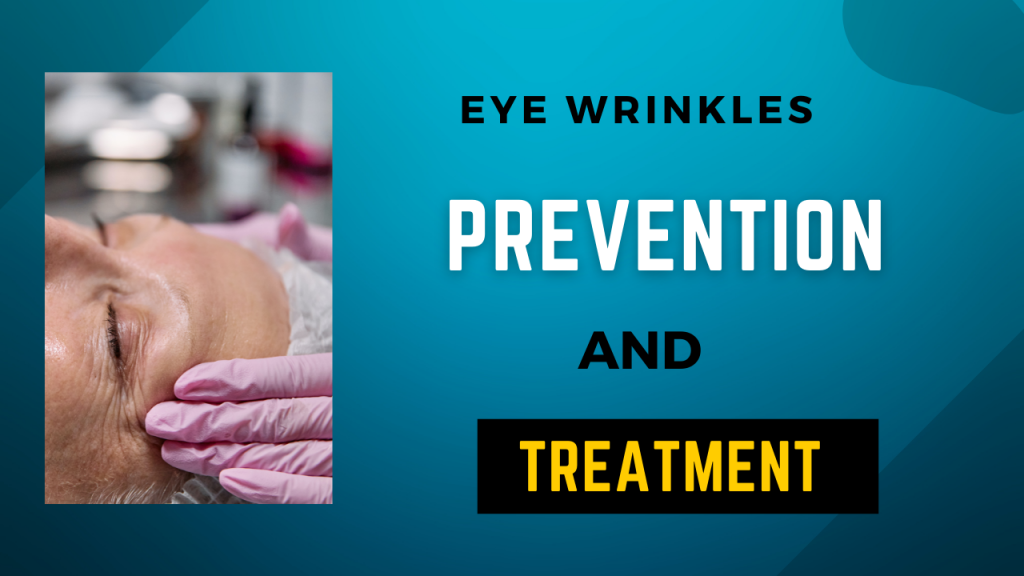 Wrinkles under the eyes are fine wrinkles called crow's feet, and laughter lines, and they are formed around the outer corners of the eyes. They begin to appear in the middle and last of the thirty years of age due to the lack of collagen and elastin production. There are other factors that lead to the appearance of wrinkles under the eyes, including excessive exposure to sunlight, smoking, pollution, staring, frowning, and smiling. In this article, we are going to talk about eye wrinkles, prevention and treatment
Luckily, there are several natural ways to get rid of wrinkles under the eyes, without the need to resort to surgeries or injections. These methods can also help you get a younger appearance, and they are as follows:
.
Check your eyesight regularly to make sure that there isn't any problem with your eyes.
Wear sunglasses to protect your under the eye skin area from Ultra Violet rays and prevent the development of wrinkles.
Cleanse the skin with honey and milk. Milk contains lactic acid that cleanses the skin, and honey makes the skin absorb and retain moisture.
Moisturize the skin with moisturizing products. Applying natural oils to the skin nourishes, moisturizes, and regenerates the skin. Among these oils, we have olive oil, argan oil, sweet almond oil, avocado oil, rosehip seed oil, and coconut oil.
Use the egg whites and oats mask. You have to mix a spoonful of ground oats with an egg white and stir it well. Apply it under the eye and leave it for half an hour. Then wash the skin with cold water. This method tightens the skin and softens it. Also, it helps to get rid of wrinkles. We know that egg whites supply the skin with collagen, which treats wrinkles under the eyes. Concerning oats, they tighten and moisturize the skin.
Massage the skin using the index finger. This increases fluid flow, rejuvenates the skin, and prevents the appearance of wrinkles.
Use an avocado mask. Avocado is rich in substances that fight the signs of aging. You can mix half an avocado with a tablespoon of honey, then apply the mixture to the skin. Leave it on it for 5 minutes, and then rinse the mask with warm water.
Eating fish, especially salmon, because it contains protein that maintains the health of skin, hair, and nails. It also nourishes them because it contains fatty acids and omega 3.
Eat soy because it improves the health of the skin.
Follow a healthy diet to slow down aging, because healthy skin needs healthy food. By eating antioxidant foods; you renew cells and protect collagen.
Eat an adequate amount of acids. These are found in flaxseed and fish. They improve the functions of the skin and repair its tissues.
Eat vegetables, fruits, and whole grains daily. These will provide your body with protein, calcium, vitamin D, iron, zinc, and other essential minerals to function properly.
To keep the skin hydrated and healthy, and flush out toxins from the body, drink 8-10 glasses of water.
Drink fruit and vegetable juices to take advantage of its water content.
Take green tea as it contains antioxidant components.
Use milk and rose water. To hide wrinkles under the eyes and get rid of them, you can mix a spoonful of milk with a spoon of rose water and put it on the area under the eye. Leave about a quarter of an hour and wash with cold water. To get good results, you have to repeat this recipe 3 times a week.
Use natural oils. In order to get rid of wrinkles under the eyes, you should mix drops of castor oil, almond oil, olive oil, and vitamin E oil. Then, gently massage the area with the mixture. Apply this recipe before bedtime daily, and you will notice the difference.
Use cucumber slices. Cucumber is an important vegetable that benefits the skin. Put cucumber slices or cucumber juice on the eyes daily before bed, leave them/it on the skin for half an hour, and wash the skin with cold water.
Use yogurt and Castor Oil. Yogurt helps eliminate wrinkles because it contains lactic acid. It also helps to get rid of fine lines. Mix a spoonful of yogurt with drops of castor oil, stir well and apply to the area under the eye. Leave for about 10 minutes and wash with cold water.
Use aloe vera gel. To get rid of wrinkles, and dark circles that affect the lower eye area, apply aloe vera gel and leave it for about a quarter of an hour.
    We hope that the above tips for fighting under-the-eye wrinkles will benefit you. If you feel doubtful about anything, don't hesitate to make your own research or contact a specialist for more accurate guidance and advice.
DISCLAIMER
I am not a doctor, psychiatrist, therapist, or professional, and I don't play one on the internet. So the information provided herein is for informational purposes only and does not constitute professional advice. Plus, before taking any decision based on what you find on this website, you are advised to consult a doctor or professional.